Researchers at the FAMU-FSU College of Engineering are using artificial intelligence to find road safety issues in school zones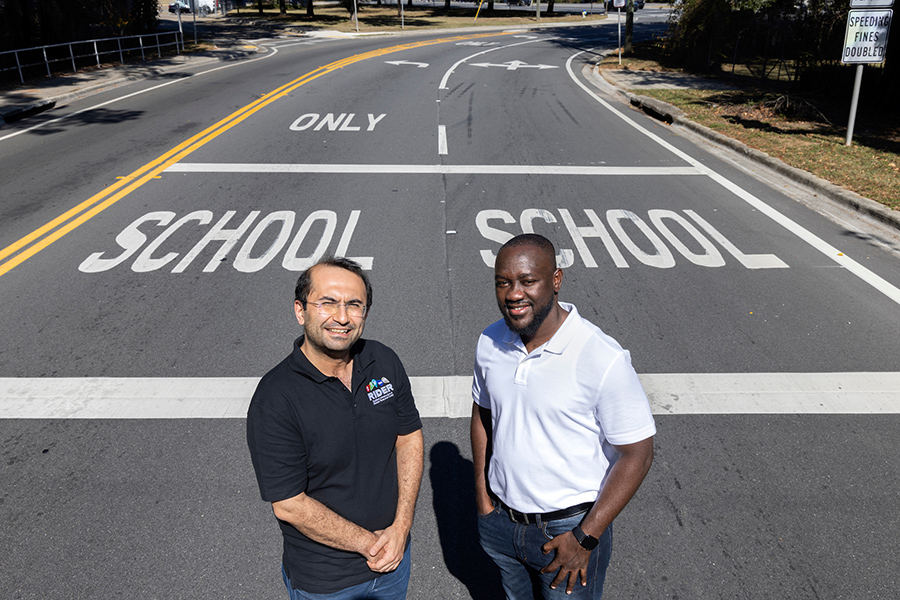 Researchers at the Center for Resilient Infrastructure and Disaster Response (RIDER) are using artificial intelligence and aerial photography to make Florida school zones safer.
A study conducted by researchers at RIDER and the FAMU-FSU College of Engineering uses computer vision tools to replace manual inventories of road features in school zones. The study was published by the Transportation Research Register.
"Land-based methods are tedious, expensive and potentially dangerous to crew members working on busy roads," said lead author and PhD student Richard Antwi. "Our research team has designed a new AI-based tool that collects data using more accurate, faster and less expensive aerial technology."
The researchers used computer vision based on artificial intelligence and deep learning techniques to extract information from images and videos and process it into useful data.
They conducted the initial study in Orange County, Florida, which has more than 250 public schools with more than 200,000 students and a county population of about 1.42 million. The team used aerial photographs archived by the Florida Department of Transportation and computer modeling to map school zones, then developed a method to extract recognizable school zone markers from high-quality images.
Their method identifies old, invisible markers by comparing the locations of school zones with other geometric features, such as crosswalks. This procedure eliminates the need to manually enter inventory data, prevents errors and speeds up results.
"Collecting up-to-date road engineering data is essential for transportation agencies to be able to plan, maintain, design and rehabilitate roads," said Eren Ozguven, director of RIDER and co-author of the study. "Our goal was to improve this process, which will pay dividends for Florida's students, pedestrians and drivers."
why does it matter:
The new model provides important information to transportation agencies that will ultimately save lives. This method is more accurate and provides vital information for analyzing older, less visible school zone markings that may pose collision and hazard risks. Administrators can address areas of need faster.
The researchers plan to improve the model by incorporating collision, traffic, and demographics data for a more detailed analysis.
Concerned people:
The research is a collaboration between the FAMU-FSU College of Engineering, the University of North Florida and the software company Iteris.
Researchers from the FAMU-FSU College of Engineering included Antwi, Ozguven, doctoral student Samuel Takei, Professor Ren Moses, and Associate Professor Maxim Dolibinets. The other authors were former doctoral student Alikan Karer, who now works as a data scientist at Etris, and Tobias Sandu, a professor at the University of North Florida.
Where does the funding come from:
The Florida Department of Transportation is funding the $223,843 study through Florida State University.