Formula 1 driver Sergio Perez talks about his new sponsor, racing and his future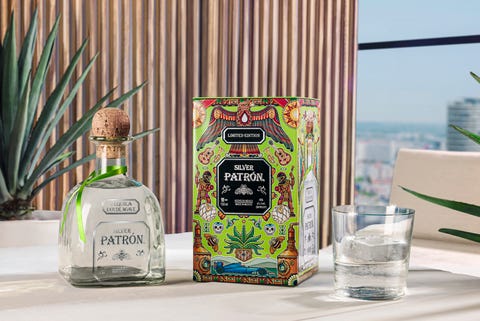 To paraphrase Frank Sinatra: For Sergio Perez, when he was 33, it was a very good year.
Born on January 20, 1990, his 33rd year coincides with the 2023 Formula 1 season, which is considered his best Formula 1 season to date. From behind the wheel of his Red Bull Racing car, Checo, as fans know him, claimed second place in the Driver's Championship at the penultimate race of the season, the 2023 Las Vegas Grand Prix on November 18 – about as good a result as he could hope for. Any human, as no one short of Captain America had a chance to beat Max Verstappen for the title this year.
But 2023 also sees the driver and his Mexican native son partner with Bacardi's iconic Patrón tequila brand on a new special edition tin of the brand's iconic silver Patrón expression. The 2023 Mexican Heritage box – the eighth edition of the brand's tradition – features a delightful collection of eye-catching artwork, assembled by Chico as a tribute to his homeland, his passions, and those he loves.
Despite being rather busy – the life of a Formula 1 driver is rarely quiet, but especially not before a race – Perez made time to chat with us via email just before the race about his plans for the future and his team with Patron. And what got him excited about the Las Vegas GP.
How did this collaboration with Patrón start? Can you tell me if they reached out to you, how you felt about the project, etc.?
I have been working with Patrón for about two and a half years. They reached out to me, and it really started from our shared pride and passion for Mexico, as Patrón is a proudly Mexican brand. Each bottle of Patrón is handcrafted at Atotonilco, El Alto in Jalisco, Mexico at Hacienda Patrón. They really care about their people (and) the community, and they're really proud of the Mexican culture.
As you know, I grew up in Guadalajara in Jalisco – near Patrón. My Mexican heritage, culture and country is something that means a lot to me and is at the core of my identity. Thus the partnership was born, and we have continued to grow ever since.
This year, Patrón actually becomes the Official Global Spirit Partner of the Oracle Red Bull Racing Team, which I love to see. It's been great to have Patron on track at our club, doing exciting events with the team at key races. I really enjoyed working with Patrón, they are a great partner.
How deeply involved were you in the design of the new special edition box?
This year's tin is all about celebrating the rich culture of Mexico, which is of course my passion. To bring it to life, I worked closely with Patrón to include several icons that have personal significance to me.
For example, I wanted to honor my family – my team, my family and my friends – in the design of the box, which I showcased by a group of coyotes. I also made sure to include the eagle, the national symbol of Mexico, and Xolotl, the Mexican "god of the game" who represents the importance of teamwork.
What excites you most about the Las Vegas Grand Prix? What about the less enthusiastic?
It's a new place in an amazing street racing city, which I love, so I'm excited about that. (On the downside) I think it will probably be the most stressful race of the season, in terms of the time zone and the night schedule.
What is your favorite car that you personally own?
I am very grateful that I have been able to enjoy a wide range of personal cars. Choosing a favorite car is like choosing a favorite child – impossible.
Do you still enjoy being in Formula 1? Have you ever thought about what you want to do next?
I am so grateful that my racing dreams have become a reality. When I was growing up, if you had told me I would be part of the number one Formula 1 team in the world, I wouldn't have been able to believe it. But I worked hard to get here and I'm proud of how far I've come.
Looking forward, I plan to stay in racing until at least 2026, so I can experience the new set of Formula 1 rules that are due to come into effect then. I can't say exactly what's to come beyond that…but I'm excited to continue sharing Mexico's culture with the world.