China unveiled a world-leading drone with vertical take-off and landing wings in Shenzhen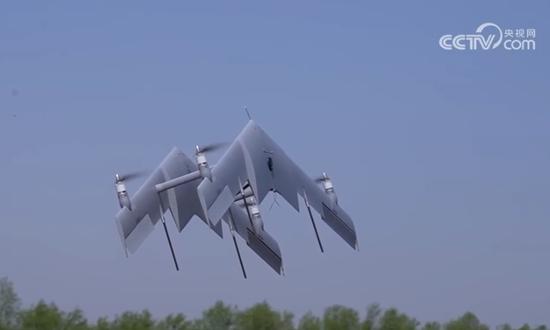 (Screenshot of wingless vertical take-off and landing unmanned aerial vehicles from China Central Television)

A world-leading unmanned aerial vehicle with tandem flying wings for vertical take-off and landing (UAV) was unveiled at the 25th China High-Tech Fair (CHTF), which concluded on Sunday in Shenzhen, China's technology hub. China Central Television reported that the plane can take off and land in a vertical state, and can fly at a normal level after take-off.
The new type of drone was independently developed and manufactured by researchers from the Changchun Institute of Optics, Micromechanics and Physics of the Chinese Academy of Sciences. It adopts the world's leading aerodynamic design of tandem flying wing and multi-copter.
Researchers have mastered the entire technology chain, including the drive system, sensor data fusion, flight control system, and algorithms. They achieved multiple performance limits for the drones, such as operating in temperatures as low as -40 degrees Celsius, at an altitude of 5,500 metres, or taking off and landing in strong level 7 winds, according to the report.
By adopting the tandem flying wing design, it is possible to realize vertical take-off and landing without a runway, making it significantly more adaptable, said Liao Dongbo, the person in charge of the exhibition from the Changchun Institute, according to media reports.
Fu Qianchao, a Chinese aviation expert, told the Global Times on Monday that China has also developed single-wing vertical take-off and landing drones, and compared with the traditional single-wing design, this new flying wing design can provide more stability when operating in the air. Strong crosswinds.
While the tandem wing configuration has lower aerodynamic efficiency than the equivalent conventional single-wing configuration, the advantages it offers are more significant in this case, Fu said.
The expert said it is definitely a unique aircraft.
The drone mainly uses new energy lithium batteries as the power source, its rotor provides upward lift during vertical take-off, and provides horizontal thrust after transitioning to horizontal flight. It also provides the drone with superior payload capacity and endurance.
Its total weight is about 50 kilograms when fully loaded, and its endurance range is about 17-18 kilograms, with a battery life of up to four hours, according to Yao.
In June, China published its first mandatory national standards for the civilian drone industry to ensure the healthy development of the sector. The new policy, scheduled to take effect on June 1, 2024, includes mandatory technical requirements covering 17 areas from electronic fences to remote identification and emergency disposal operations.