Chico Perez in F1 Las Vegas, Bad Bunny and PATRÓN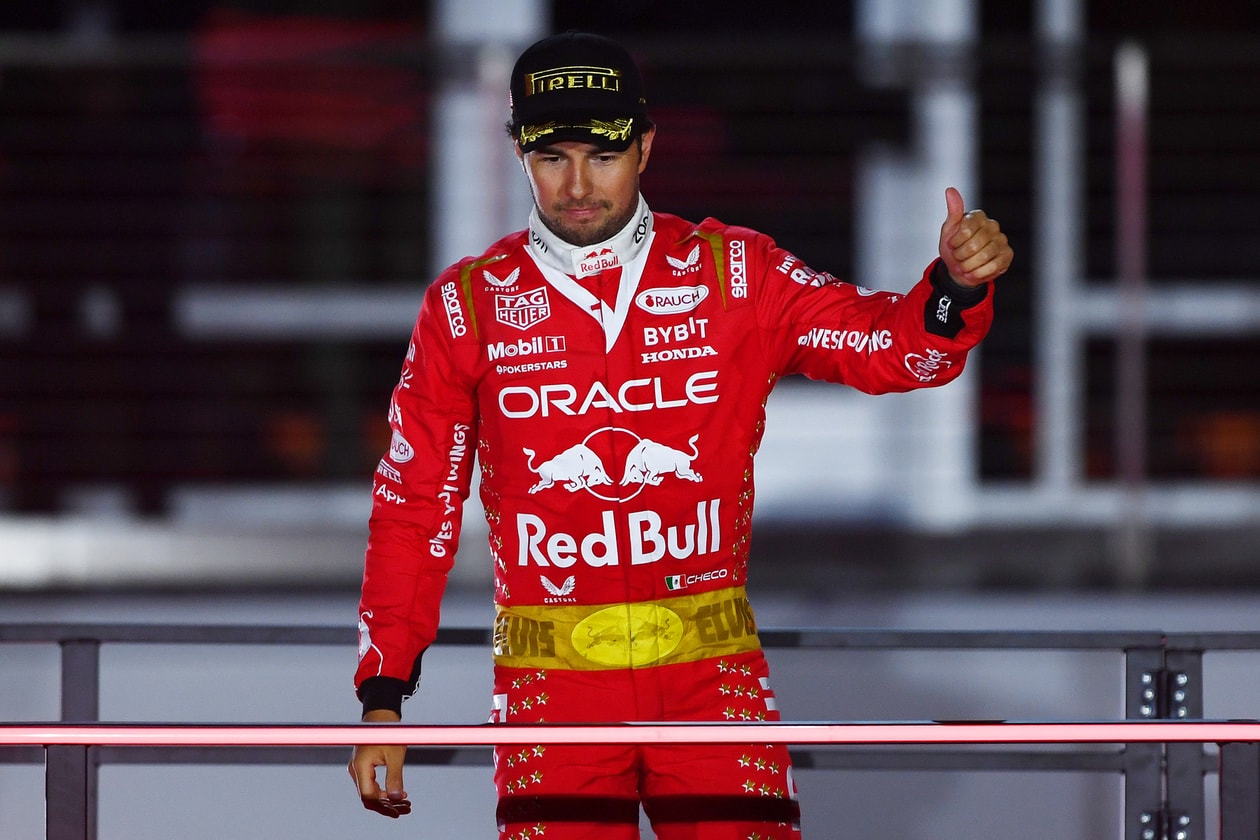 For most people, we see sports players as heroes, largely because of their training efforts, their accomplishments on the field, what we show on TV or live, etc. We see their celebrations, and get a glimpse of the behind-the-scenes drama. But what we can't see is the turmoil and psychological stress they must go through before they put on their helmet. Their training is far from just physical – we can't imagine the emotional and even spiritual pain these competitors have to endure.
But hours before his Formula 1 race, we spoke with Sergio "Chico" Perez and a quote stuck with us underscoring what makes world-class athletes what they are:
"I can't wait to get out of there."

Of course, the conversation wasn't just this main line of enthusiasm. Chico – who has now clinched second place in the 2023 F1 Grand Prix season following a third podium finish last weekend in Las Vegas – was completely honest about his thoughts on the new track, describing it as "nerving and exhilarating" at the same time.
"The energy and anticipation is out of this world," he told us. "It's always fun to explore a new track, especially in such a high-energy city. (But) one of the most exhilarating and nerve-wracking parts of the Vegas circuit for me is racing on the streets of the Las Vegas Strip. We can do that in Monaco, but this is the first time In which we experience street racing in the United States.
A second-place finish of the season makes Red Bull Racing constructor of the year, and with only Abu Dhabi remaining, this is Checo's home. We got a little time to talk to him more about what Mexican pride really means to him and his racing career, how that extends to his collaboration with partner PATRÓN Tequila, and even a candid conversation about his friendship with fellow star Bad Bunny.
How do you feel representing Mexico in Formula 1?
Being able to represent my home country, Mexico, through my passion for Formula 1 racing is one of my greatest achievements in life, and something very dear to my heart. It is an honor to represent the country that I love so much and is home to the people I love every day through my work.
How do you intend to influence new Mexican generations and their connection to sports?
It's a very special time to be a driver, with the world of Formula 1 growing in popularity at an unprecedented rate, so I'm honored more than anything to show the people of my hometown and my country that anything is possible. Hopefully it will inspire a future Mexican driver or two along the way.
What are your thoughts on the F1 calendar extending to 24 races next year?
I love racing and have done it all my life and enjoy it very much. I also like to balance life – I have four kids too! But I have confidence in Stefano Domenicali (F1 CEO) and his team to get that balance right and I'm excited for the future.
Tell us about your partnership with PATRÓN. how did that happen?
I've been working with the PATRÓN family since 2021, so when I had the opportunity to collaborate on our annual Mexican Heritage box, I felt very honored, and it also felt like a very natural next step for our partnership. Knowing that the Mexican Heritage Can is all about sharing the culture and traditions of Mexico, I was grateful for the unique opportunity to share what Mexico means to me through this design, and I'm excited for fans to get their hands on this can.
Can you analyze the cultural aspects of PATRÓN Heritage Tin? What do your friends and family think about collaboration, design, and the importance of partnership?
Inside the box, I have woven several symbols that hold special significance to me. For example, you'll notice elements like bees and hummingbirds that represent growth and my competitive nature as pollinators. Another symbol that is important to me is the eagle, the national symbol of Mexico, and XOLOTL which is the Mexican "god of the game" which signifies the importance of teamwork. I've also included cocktail references that help represent Mexican festive traditions, which for me always includes PATRÓN Tequila.
My family is very important to me, so I needed to honor them on the box. I decided to feature them as a group of coyotes, since mi familia is my group, which helps support me personally and professionally.
Aside from PATRÓN and spirits, what else would you like to share about your Mexican culture, heritage and background with your fans?
One of the most important aspects of my Mexican background for me is the idea that Mexicans always do their best, and never give up.
Leaving home at the age of 14 and moving away from my friends and family to a foreign country to pursue a career as a professional driver was one of the biggest challenges of my life. However, the perseverance my Mexican culture infused me with, along with the support of my family, helped me move forward.
What was it like working with Bad Bunny on the music video for Monaco? Are you two personal friends?
Who doesn't love a bad bunny? He's a friend, we had a lot of fun together as you can see from the music video. Hopefully he can make it to a few more races next year and we can have more fun.
Are there any personal plans for the end of the year? How will you relax?
I think it's very healthy to use the off-season to do all the things you can't do during the season. I am happy to be with my wife and children and to stay in Mexico and it is a happy place for me. Although I will always focus on next season in Formula 1 which is not far away!
---
Disclaimer: We do not encourage irresponsible and/or underage drinking. Drink responsibly and legally.